Gratuitous Woodhouse Posting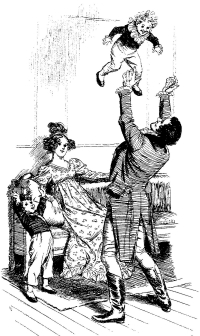 "Mr. Knightley entertains his nephews."
From the Jane Austen Society of the U.K.:
Emma Woodhouse regards herself as the most important lady in the village of Highbury, being mistress of her father's house and receiving the deference of all the neighbourhood. She is cleverer than most of her acquaintance, and loves to meddle and arrange their lives for them. The only person who ever expresses any criticism of Emma is Mr Knightley, who owns the nearby Donwell Abbey and estate. Sixteen years older than Emma, he is both fond of and exasperated by her. His younger brother is married to her older sister, and they have a string of nephews and nieces in common.
Read the rest (and the novel, of course).
SOOPER SEKRET MESSAGE TO KATHY: Yip! Yip! Yip!
Posted by Robert at September 13, 2006 11:51 AM | TrackBack