INSERT EVIL WICKED LAUGH HERE!
Kathy's gone to the Twin-Cities, having plumb forgotten that the last time she went on vacation she entrusted the keys to casa Cake Eater to your humble LLamabutchers, hoping we would, you know, take in the mail, feed the cat, water the plants, and not rack up too much charges on pay-per-view for Wrestlemania XXXIV Hillary's Dance of DOOOM! live from Indianapolis.
The problem is, you let your neighbors have the keys, and then you forget about it.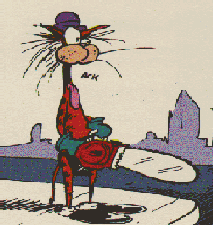 Honey, I'm Home.....
Posted by Steve at July 27, 2005 11:18 AM | TrackBack